On the 2nd Anniversary of Legalization
Saturday marks the 2nd anniversary of cannabis legalization in Canada and one that we should all be proud of as Canadians. At the historic event on October 17, 2018, Canada was the second country and the first G20 country to legalize and regulate cannabis for adult-use.
There will be many articles published highlighting the highs and lows of the last two years. We have a healthcare and research  perspective as a dedicated medical cannabis clinic and research leader since 2014, and similarly have seen highs and lows for our patients and practitioners.
Importantly, before legalization, it was common thought that medical cannabis clinics were not long for the world, that  legalization would remove the need for dedicated medical support for patients. Having worked alongside patients for years, we knew that this would not be the case, and in fact, we have seen an increase in referrals from doctors and self-referrals from patients, stimulated by legalization. With better access to cannabis information, people are seeking support from trained healthcare professionals to make informed choices that can improve their health and wellbeing.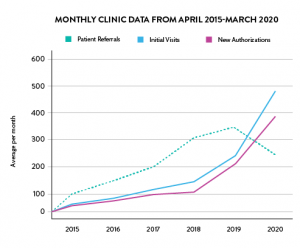 Our increased demand for service, and increasing number of appointments year over year indicate that the need for medical support and patient education from a dedicated healthcare team is not going away any time soon.
WHAT HAS GONE WELL
Less stigma Patients report feeling more comfortable speaking with the healthcare teams, their families and friends about medical cannabis. We've observed an increase in interest in educational patient events and our training programs from doctors, nurses and pharmacists.
Reduced ethical burden. Cannabis legalization has helped to provide a clearer role for healthcare professionals and reduce the ethical burden we faced in previous years where doctors were the gatekeepers to legal access. Now, within a legal cannabis framework, we can focus specifically on the patient's eligibility for medical cannabis treatments and can discontinue treatment if the goals or the conditions of our medical program aren't met without the concern for legal issues if patients continue to consume on their own.
Diversity of product formulations and methods of administration have provided more options for patients and doctors. In the last two years, cannabis extracts, oromucosal sprays, vapourizer pens and topical products, have become available, meaning patients are more likely to find a treatment regime that works for them.
Updated guidelines for prescription of medical cannabis from the Collège des médecins du Québec. The important emphasis on quality of care and documentation remains, however research is no longer mandatory and decisions such as follow-up frequency of stable patients are left to physician discretion. Santé Cannabis is still very committed to medical cannabis research and all patients assessed and followed at the clinic are enrolled in our Real-World Data study upon their consent. However as this is no longer a mandatory requirement, it reduces barriers for patients and physicians.
WHAT CAN BE IMPROVED
More public education required. Publically-funded and developed training for healthcare professionals is essential. There is still a lot of confusion between medical and nonmedical rules, especially in Quebec.
Commitment to healthcare professional training. Our public healthcare system is a pride of Canada, but the government responsibility for training of our doctors, nurses, pharmacists and healthcare support staff seems to be completely overlooked during the first two years of legalization. The fact that pharmacists still don't have a defined role in Canada's medical cannabis program is Canada's most shameful deficiency.
Improved access points for patients Access has not really changed for patients in the last two years, they still cannot fill medical cannabis prescriptions at pharmacies or retail locations. While SQDC locations continue to expand across the province, and same-day home delivery is available in Montreal for non-medical consumers, patients must still order online or by phone directly from the licensed seller and wait 2-3 business days for delivery.
The cost of medical cannabis remains prohibitive to the majority of patients who could benefit. Legalization introduced an additional excise tax, in addition to the sales taxes already applied. Some improvement has been made with private insurance, however it remains limited and universal cost coverage is still far away.
The introduction of the Cannabis Research License, a license that must be obtained from Health Canada for all research that handles onsite cannabis or cannabis products, has delayed research projects and increased burden on clinical researchers. This barrier causes challenges with project planning and funding. Without improvements, Canada is at risk to lose its global leadership position for research and innovation of cannabis products and cannabinoid-based medicines.
Changes to product packaging with the implementation of the Cannabis Act have created unnecessary burden on patients, healthcare professionals and the licensed producers and manufacturers. After twenty years of medical cannabis in Canada, it is frustrating that policy decisions are still being made without putting patients' needs first.
On the 2nd Anniversary of Legalization
We are proud to be practicing medicine and completing research in a province and country that has made such impressive gains in cannabis, medical and otherwise, over the past two years. Legalization was something we advocated for since we opened our doors in 2014, and we celebrate this anniversary each year, knowing how many strong people worked tirelessly to make it happen. There is still a lot of work to do, and we excitedly look towards the next two years and beyond. 
For more perspectives on the 2nd year anniversary of legalization, read here.