CBMs for Chronic Pain & the CBD Craze
Every year we look forward to the International Cannabinoid Research Society (ICRS) Symposium as it brings together world leaders in the field of cannabis research, notably medical cannabis. We find the presentations enriching and walk away with a broader knowledge in our field. 
This year we were thrilled to be selected out of the many applications for both an oral presentation and two posters highlighting the work from not just our research team, but our entire clinic. 
The Symposium
"The International Cannabinoid Research Society is a non-political, non-religious organization dedicated to scientific research in all fields of cannabinoids, with more than 650 international Members researching the endogenous, plant-derived and synthetic cannabinoids and related bioactive lipids." https://new.icrs.co/ICRS2021/ICRS2021/
Every year, the society holds a symposium to present the latest on cannabinoid research. 
Due to the COVID-19 pandemic, the symposium was held virtually this year; it was nonetheless a success with over 70 oral presentations and 180 posters, bringing together top researchers and clinicians from the medical cannabis community. Our presentations  discussed the impact of medical cannabis on pain management (one poster) and the role of cannabidiol (CBD) in symptom management (one poster and one oral presentation). 
CBMs for Chronic Pain 
The poster on cannabinoid-based medicines (CBMs) for chronic pain investigated the overall effectiveness of CBMs and the impact of treatment and population-based factors including treatment formulation, method of administration and pain mechanism. This study on 198 patients with pain as a primary symptom provided preliminary indication that CBMs may be considered as an adjunct for the treatment of various pain conditions besides neuropathic pain. Results are both novel and require further investigation. In contrast with current literature, oral CBD-rich products were the preferred product and method of administration.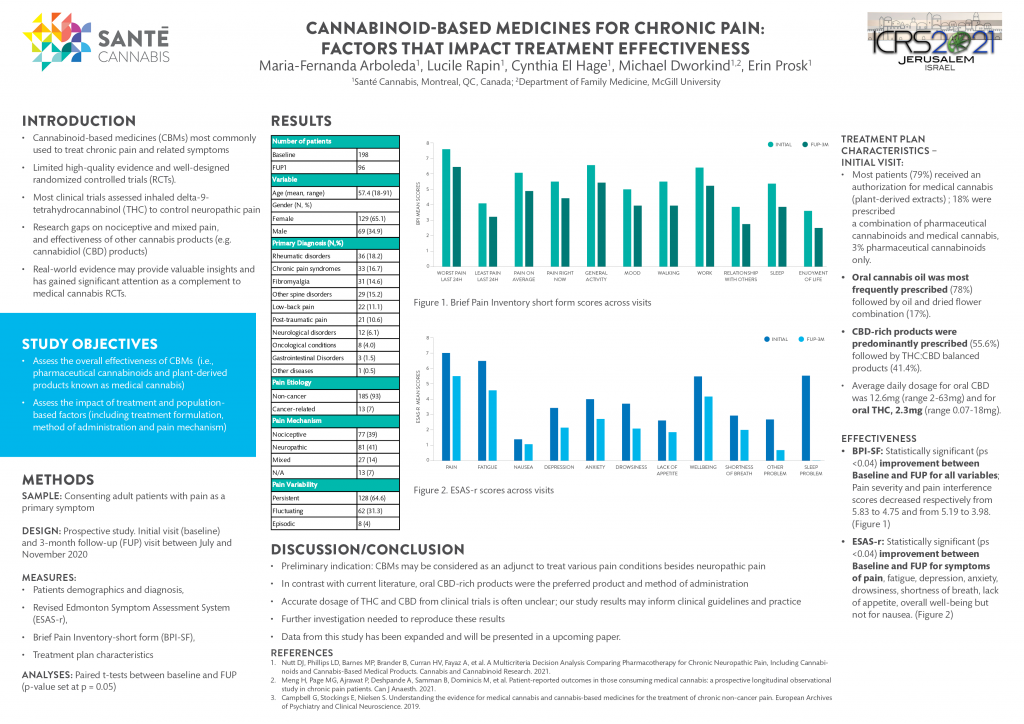 Click to view CBM_for_Chronic_Pain poster
The CBD Craze
The other poster talked about the current CBD craze. Many countries are now legalizing CBD-rich products, yet validation of the therapeutic expectations of CBD products has fallen behind, and requires further research. The study compared effectiveness of CBD-rich products and THC:CBD products in 1,095 patients on symptom burden. Findings showed a modest improvement in symptom management with CBD-rich treatments and the necessity of both CBD and THC-based medical cannabis treatments to improve treatment effectiveness, for specific symptoms. 
The oral presentation assessed CBD-rich treatments on overall symptom burden and the effect of transition from a CBD-rich to a THC:CBD combination in 279 patients. Our results show that CBD-rich products may be effective to treat multiple symptom expressions simultaneously. Precisely, this study indicates a more significant positive impact of initiation of CBD treatments in patients who present with a higher number of severe symptoms, regardless of the product used after the first follow-up visit. 
We are very excited to announce that a full manuscript relating to this dataset was recently published in the Journal of Cannabis Research.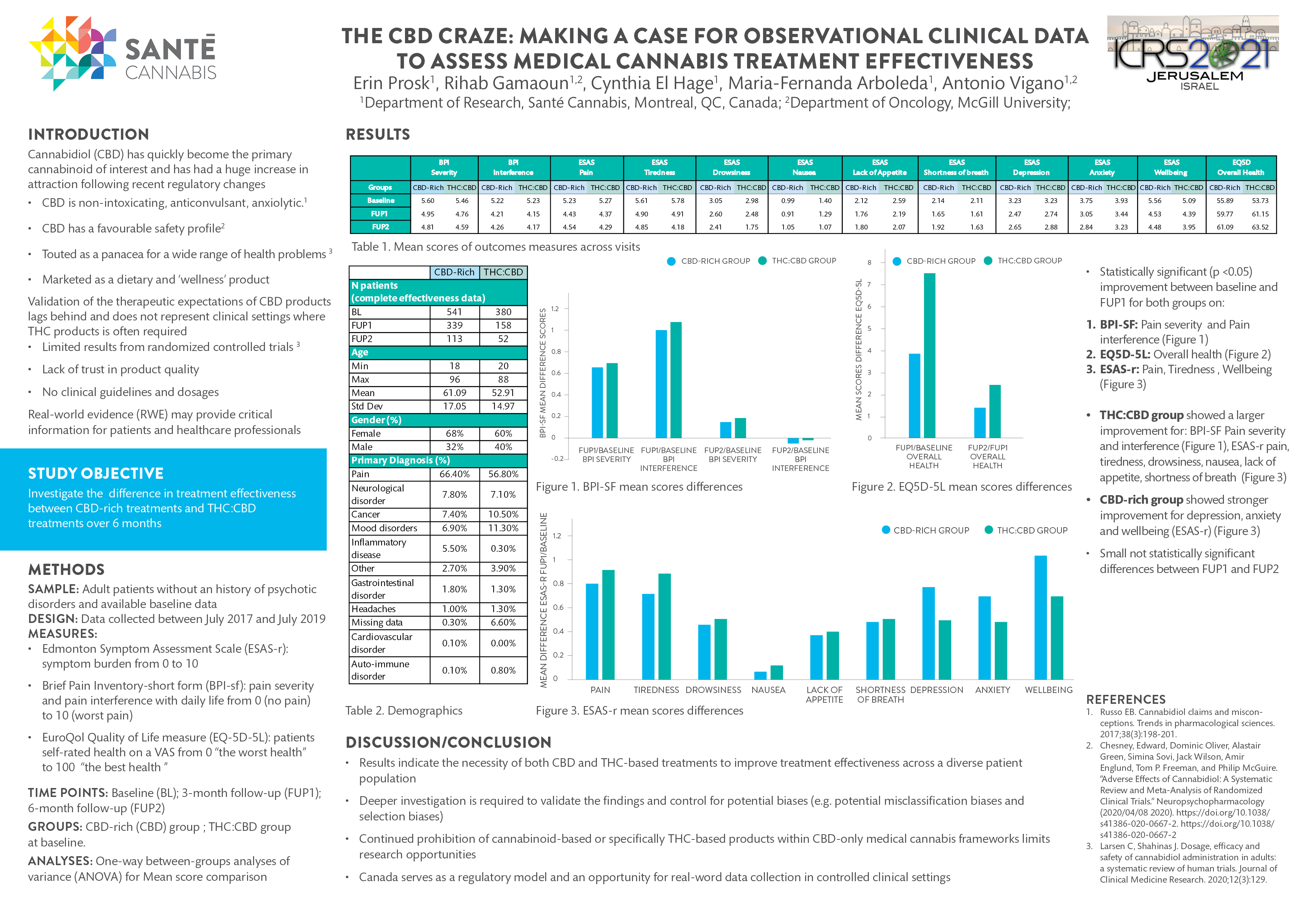 Click to view The_CBD_Craze poster

What does CBD-rich, THC:CBD and THC-rich products mean, really?
Cannabis products, including medical cannabis ones, contain over 100 cannabinoids, among which Δ9-tetrahydrocannabinol (THC), and cannabidiol (CBD) are found in significant but variable concentrations and have garnered the most attention. Products available in Canada are categorised depending on their THC and CBD concentration, expressed either in weight concentration proportion (% w/w) for dried flowers or in volume (milligrams/milliliters; mg/mL) for oil products. When we talk about CBD-rich, THC:CBD and THC-rich, we group the products based on their CBD and THC concentration. 
CBD-rich means the product contains a high concentration of CBD and hardly any THC. In the Canadian medical cannabis program, CBD-rich cannabis oils contain approximately 0.5-1 mg of THC/mL and 20-25 mg of CBD/mL depending on the product manufacturer. In Canada, CBD-rich products can come from both hemp plants and other varieties of cannabis plants (more about CBD regulations in Canada here). 
THC:CBD means the product contains somewhat equivalent concentrations of both CBD and THC. 
THC-rich means the product contains a high concentration of THC and hardly any CBD. THC concentration can go up to 30% in dried flower cannabis products available in Canada. 
CBD, while  structurally similar to THC, does not cause intoxication or euphoria. Because CBD produces few adverse effects (Chesney et al.,2020), both patients and clinicians generally prefer to start medical cannabis treatment with CBD-rich products in order to limit the use of THC and its inherent potential adverse events (Brown, 2020). THC may be gradually added later to improve treatment effectiveness on specific symptoms.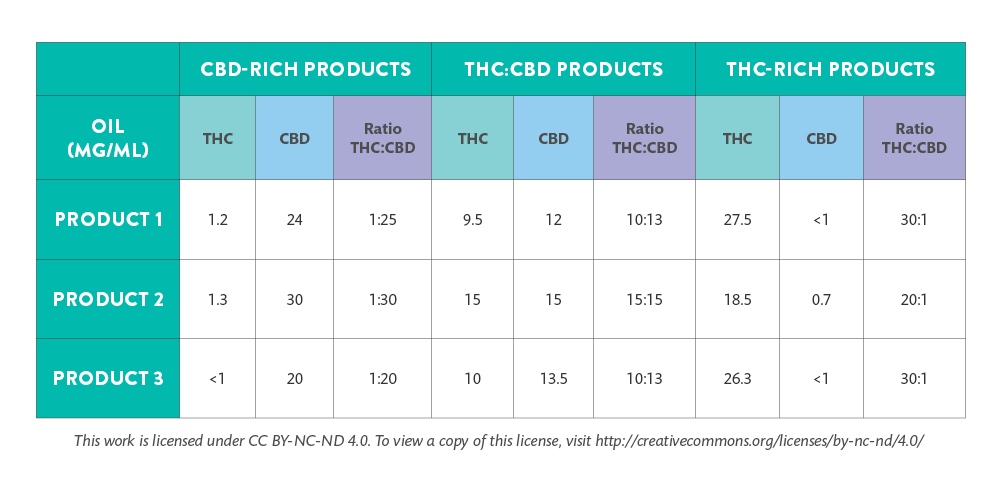 Table 1: THC and CBD contents and associated THC:CBD ratio for three of the most common oil products from each category authorized at Sante Cannabis.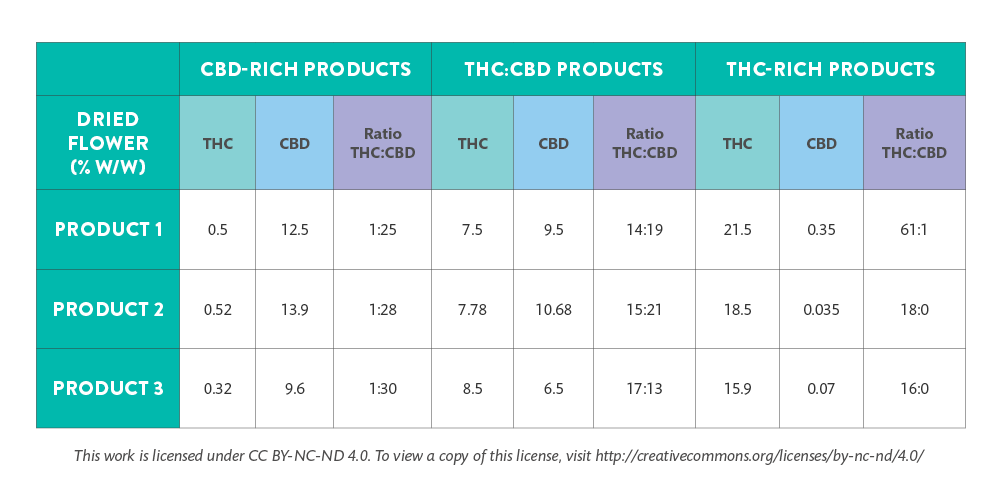 Table 2: THC and CBD contents in percentage weight per weight (% w/w) and associated THC:CBD ratio for three of the most common dried flower products from each category authorized at Sante Cannabis.
To learn more about specific dosage to recommend to your patients, visit our international training page to find out about our unique clinical learning programs and preceptorships. 
Conclusion
As usual, the symposium was a great opportunity to learn more about all the exciting cannabinoid research that is happening around the world. So many people are dedicated to advancing knowledge on medical cannabis to improve access for patients, and we are proud to be able to play a part in advancing the world's knowledge base. We are already looking forward to next year's event, hopefully in person this time. 
Thank you to all our patients who participated in our real-world data observational study. These presentations would not have been possible without your dedication to advancing cannabis research. 
To find out more about our research programs and to get involved, visit our Research Partners Page
Author
Lucile Rapin

This work is licensed under a Creative Commons Attribution-NonCommercial-NoDerivatives 4.0 International License.